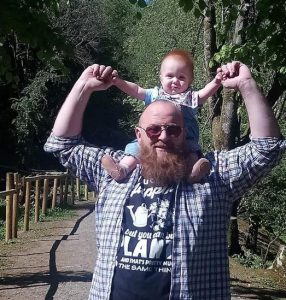 This weeks Sharing Sunday is a little bit different because in honour of Fathers day- we're hearing from…a dad!
Peter (aka Martha's Dad!) has shared his experience of having a new baby and supporting his wife Terri with breastfeeding. Dads, your experience may be very different to mum's, but your support is incredible and your stories matter so much to us!
Here's Peter's…
Supporting Terri with breastfeeding was easy at the beginning. I think it's natural, it's the way mum and baby bond and more beneficial than formula – what with how mum is passing on antibodies, immunity… We are mammals and that's what breasts are for. They are not just fun bags! Breastfeeding helps us respond to what baby needs. I ensured she had everything she needed…remote control, drinks, food. Made a flask of tea before work so she had at least one hot drink. It helps to see breastfeeding as perfectly normal to do in public and being a daddy bear ready to growl at anyone suggesting any different. I loved being proud and not ashamed when my wife was feeding in public.
For me, I really don't feel it affected bonding. I couldn't provide that in the same way but that's just one thing a baby needs. Nappy changing, baths, naps, comfort – I could do all of those. And I found it was a nice bonding experience with my wife. I really enjoyed looking after her after she'd been the one giving birth.
There were highs and lows of course – for me some of the highs were having that time where she's feeding to myself. I found it emotional seeing my baby enjoying booby. It was great not having to wash and sterilise bottles, not having to wait whilst baby is screaming for milk. Not having to get all sorts ready for going out. The lows… to be honest there were no lows. It's not a problem being unable to take baby out for any length of time alone as you don't need to be alone to bond. You don't have to hold something all the time to bond. My wife pumped once baby was older so I could take baby places then, or get a babysitter and go out together with her.
If you're a new dad supporting a breastfeeding mum – just go with it. Be thankful for the less workload without bottles and that your partner wanted to give your baby the best possible start. Be the protector lion when your partner is feeding in public. Don't come across all shy when your wife gets her boob out as that will just make it difficult. Remember it's just a gland and we're mammals; imagine David Attenborough narrating!
💗💗💗💗💗💗💗💗💗💗💗💗💗💗💗💗