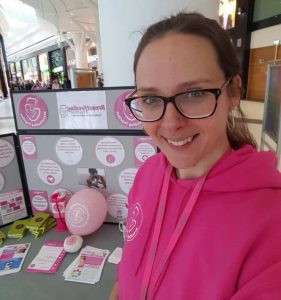 Hi, I'm Julia and I've got one daughter who's 2 and a half. When she was about 8 months old I did the level 2 peer support training as I wanted to do something valuable with my time and felt supporting breastfeeding is really important.
When I qualified I started by volunteering mainly at Atherton breastfeeding group and going on the ward once a month. I have recently finished the level 3 peer support course and have branched out quite a bit and tried lots of different areas – antenatal, live chat…it's been really interesting exploring the different ways we support.
I now also work in community and enjoy this role loads too!