First published on www.facebook.com/breastfeedingtogether on 17/01/2019 as part of the Sharing Sunday series.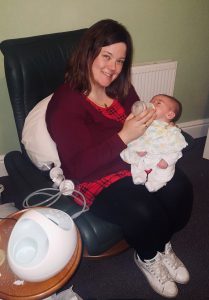 Breastfeeding hasn't worked out as I'd planned. I tried and tried to get my son (Arthur) onto the boob, but he wouldn't latch on and feed as I'd hoped he would. I also struggled finding a comfortable feeding position. However, I was determined to give my son my milk, so in hospital I syringe fed my baby after hand expressing, whilst having plenty of skin-to-skin contact.
When we got home I knew we needed help, as I was aware that syringe feeding wasn't a long-term feeding solution and we were still struggling to breast feed. I called Breastfeeding Together and a peer supporter came out to see us that day and helped myself and my partner to come up with a feeding plan. I would continue to express milk and feed it to my baby using a bottle and I'd also get some nipple shields to help my baby to latch onto my breast. We had a peer supporter visit us every day that week and I also used the connect and share group to ask others for advice on everything from breast pumps to power expressing. The support was invaluable.
Arthur is now 7 weeks old and feeding him directly from the breast is still proving tricky, so I predominantly use an electric pump to express milk for my little boy. However, at night, in the nursing chair, I'm still attempting to feed my son directly from the breast using the nipple shields. I hope that over time, he will feed from the breast more often, but in the meantime, whilst we're figuring it out, I'm so happy that I've been able to find an alternative way of giving my baby the gift of my milk.
This journey hasn't been easy and if it wasn't for the peer supporters and the connect and share group, I'd have had no choice but to give up. I'm so grateful to Breastfeeding Together for helping me to find a way of feeding my baby that I'm happy and comfortable with.