First published on www.facebook.com/breastfeedingtogether on 10/3/2019 as part of the Sharing Sunday series.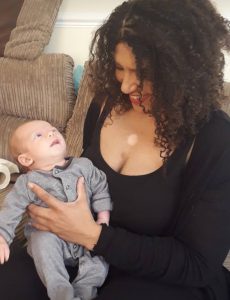 Having recently moved into the borough I've got to say how impressed I am with the support that is available here in Wigan. Being a new mum in a new area is overwhelming, but it's been made easier by the support from BfT.
Having supporters who are mums, and are somewhere between friends and healthcare professionals is very useful. The support I've been given has been great.
My baby struggled with weight gain to start with but I was reassured and got many of my questions answered from the visits and calls.
The supporters were really there for me gave me practical support and guidance.
They kept reminding me about the key principles of breastfeeding and built my confidence.
I was given a plan alongside with links to useful information, I never felt on my own during this journey and felt the support was completely tailored to mine and my baby's needs.
As a first time mum this support has been invaluable and I feel empowered now with my breastfeeding. My confidence now with my baby has improved and I'm still exclusively breastfeeding Tiber-Leo.